New map of Texas, Oregon and California with the regions adjoining, compiled from the more recent authorities.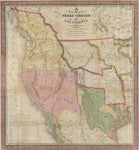 Origin/Agency/Author:
Mitchell, S. Augustus (Samuel Augustus), 1792-1868
Publisher:
Philadelphia : S. Augustus Mitchell
Date:
1846
Size:
52 x 48 cm.
Condition:
Note:
The digital version of this map appears courtesy of Dr. and Mrs. Demorest Davenport, and Timothy W. Ransom.
Location:
Privately owned.
For complete citation

View Map:
DJVU | JPEG
Plug-in Required
In order to view the images, a DJVU plugin from Lizard Technologies is required. This free software allows you to display high-resolution (high-quality) images on a web site and provides useful tools, such as the ability to zoom in and out, pan, adjust color, etc.
When you select a page to display, the software is automatically installed if you are using Internet Explorer on a PC. Choose "Yes" when prompted to confirm the installation. If are using a Mac or a browser other than Internet Explorer, you will be directed to a page with downloading instructions.