Map of the trans-Mississippi territory of the United States, 1807-1843 : showing Father De Smet's travels, location of Indian tribes, trading posts, routes of travel and other features of interest.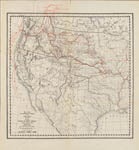 Origin/Agency/Author:
Burgoldt, Paul
Publisher:
[New York] : Francis P. Harper
Date:
c1901
Size:
45 x 45 cm. on sheet 57 x 53 cm.
Condition:
Fair
Note:
"Reproduced from 'History of the American Fur Trade' by Hiram M. Chittenden." Map originally found in pocket in back cover of vol. 4 of Life, letters and travels of Father Pierre-Jean de Smet. Map currently shelved separately in map case.
Location:
State Library
For complete citation

View Map:
DJVU | JPEG
Plug-in Required
In order to view the images, a DJVU plugin from Lizard Technologies is required. This free software allows you to display high-resolution (high-quality) images on a web site and provides useful tools, such as the ability to zoom in and out, pan, adjust color, etc.
When you select a page to display, the software is automatically installed if you are using Internet Explorer on a PC. Choose "Yes" when prompted to confirm the installation. If are using a Mac or a browser other than Internet Explorer, you will be directed to a page with downloading instructions.