Meuse-Argonne offensive of the American First Army : September 26-November 11, 1918.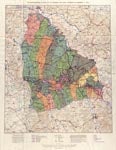 Origin/Agency/Author:
American Battle Monuments Commission
Publisher:
[Washington, D.C.] : The Commission ; Fort Humphre
Date:
1937
Size:
70 x 59 cm., on sheet 83 x 64 cm
Condition:
Good
Note:
Map originally found in pocket of American armies and battlefields in Europe, by the American Battle Monuments Commission, published 1938 and shelved with WSL Federal Documents. Map currently shelved separately in map case. Map reduced in size for presentation.
Location:
State Library
For complete citation

View Map:
DJVU | JPEG
Plug-in Required
In order to view the images, a DJVU plugin from Lizard Technologies is required. This free software allows you to display high-resolution (high-quality) images on a web site and provides useful tools, such as the ability to zoom in and out, pan, adjust color, etc.
When you select a page to display, the software is automatically installed if you are using Internet Explorer on a PC. Choose "Yes" when prompted to confirm the installation. If are using a Mac or a browser other than Internet Explorer, you will be directed to a page with downloading instructions.