Plan of the Battle of the Four Lakes, Sept. 1st, 1858, and the Battle of the Spokane Plains, Sept. 5th, 1858 ...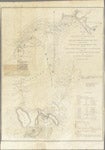 Origin/Agency/Author:
Prepared under the direction of Lieut. John Mullan by Theo. Kolecki, top. draughtsman
Publisher:
[Washington, D.C. : William A. Harris, printer]
Date:
[1859]
Size:
41 x 31 cm. on 46 x 32 cm. sheet
Condition:
Good; encapsulated, with tape marks and moderate creasing
Note:
Location:
State Library
For complete citation

View Map:
DJVU | JPEG
Plug-in Required
In order to view the images, a DJVU plugin from Lizard Technologies is required. This free software allows you to display high-resolution (high-quality) images on a web site and provides useful tools, such as the ability to zoom in and out, pan, adjust color, etc.
When you select a page to display, the software is automatically installed if you are using Internet Explorer on a PC. Choose "Yes" when prompted to confirm the installation. If are using a Mac or a browser other than Internet Explorer, you will be directed to a page with downloading instructions.